As of October 20, 2021, the U.S. Food and Drug Administration (FDA) has authorized booster shots for people 65 and older who have received the Pfizer, Moderna, or Janssen (Johnson & Johnson) COVID-19 vaccines. A panel of advisors to the Centers for Disease Control and Prevention (CDC) followed suit on October 21, and the CDC director endorsed the recommendation, clearing the way for boosters for those 65 and older.1
The CDC and FDA also authorized boosters for those aged 18 years and older and is highly recommended in ages 12 to 64 who are at high risk for severe COVID-19 or other serious complications from the disease due to institutional or occupational exposure.2
With these revised recommendations come additional questions. Can individuals "mix and match" vaccine boosters? What is the guidance regarding a third vaccine shot for immunocompromised individuals?
In this blog, we take a deeper dive into recommendations from the CDC and FDA regarding COVID-19 vaccine boosters and third shots.
Why Boosters?
COVID-19 vaccines continue to be highly effective in preventing hospitalization and severe disease; however, recent studies show that vaccine effectiveness may start to decline after six to eight months for those who are fully vaccinated. Individuals who completed a primary vaccine series (i.e., two-dose Pfizer or Moderna vaccine or a single dose of the Janssen vaccine) are considered fully vaccinated two weeks after completion of the primary series.
Emerging evidence also shows that among healthcare and other frontline workers, vaccine effectiveness against COVID-19 infections is decreasing over time. This lower effectiveness is likely due to the combination of decreasing protection as time passes since getting vaccinated as well as the greater infectiousness of the Delta variant.
Research shows that a booster shot increases the immune response, which should result in improved protection against COVID-19, including the Delta variant.3
Who Should Get a Booster?
The CDC and FDA recommend a booster dose of the Pfizer and Moderna vaccines at least six months after completing the primary series and two months after completing the single Janssen vaccine for these individuals:
65 years and older
Age 18+ who live in long-term care or congregate settings
Age 18+ who have underlying medical conditions
Age 18+ years who work or reside in high-risk settings
Here is a list of workers who may get a booster shot due to occupational risks:
First responders (e.g., healthcare workers, firefighters, police, congregate care staff)
Education staff (e.g., teachers, support staff, daycare workers)
Food and agriculture workers
Manufacturing workers
Corrections workers
U.S. Postal Service workers
Public transit workers
Grocery store workers
Pediatric Vaccines
The CDC and FDA have given the green light to the Pfizer vaccine for children ages 5 to 11. The pediatric dose of 10-micrograms is roughly one-third of the adult and adolescent dose. Following the first administration, a second is recommended three weeks later. The Pfizer vaccine has shown to be more than 90% effective at preventing symptomatic infection in children.4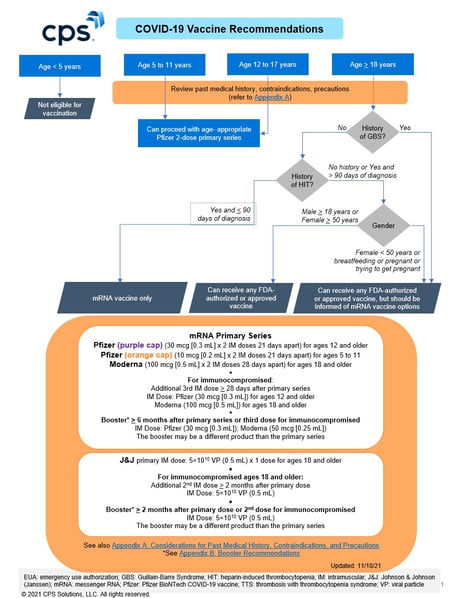 "Mix and Match" for Boosters
The same vaccine brand that was used for the primary regimen should be used for the booster. If the same brand is not available or another product is preferred, the CDC and FDA have authorized boosting with a single dose of any authorized COVID-19 vaccine booster. Individual benefit-risk assessment may inform which booster product to use depending on availability of the booster product and the risk profile of vaccine boosters, including rare events.
"Mix and match" dosing may be considered for the booster dose only. The interval should follow the interval recommended by the primary series. People who received a single dose of the Janssen vaccine can receive an mRNA (Pfizer or Moderna) COVID-19 booster dose at least two months after completing the primary series. If the Moderna booster is used, the booster dose and volume of 50µg in 0.25ml should be utilized. Pfizer and Janssen booster doses are the same as the primary vaccine dose.
Who Should NOT Get a Booster Now?
There are some individuals who should take precautions concerning receiving a booster, including those who:
Experienced a severe allergic reaction (e.g., anaphylaxis) after a previous dose or to a component of the COVID-19 vaccine
Experienced an immediate allergic reaction of any severity to a previous dose or known (diagnosed) allergy to a component of the vaccine
Have a known polysorbate allergy
Experienced myocarditis or myopericarditis after a dose of an mRNA vaccine (Pfizer or Moderna):

Recommended deferral of a subsequent dose
Those who choose to receive a sequent dose should wait until myocarditis or myopericarditis has completely resolved
Boosters are not recommended for immunocompromised patients younger than 12 years of age.
Third Dose of COVID-19 Vaccine for
Immunocompromised Individuals
The CDC and FDA have authorized an additional third vaccine dose for certain immunocompromised individuals.5 While the premise for a booster is that immunity wanes over time, these high-risk groups didn't get enough protection to begin with.
The authorization regarding a third dose covers the Pfizer and Moderna (mRNA) vaccines only. Emerging data in adults suggests that an additional mRNA COVID-19 vaccine dose in immunocompromised people enhances antibody response and that the benefits outweigh the risks.
Individuals for whom a third vaccine dose is recommended include immunocompromised people with:
Medical conditions or those receiving treatments that are associated with moderate to severe immune compromise
Active or recent treatment for solid tumor and hematologic malignancies
Receipt of solid-organ or recent hematopoietic stem cell transplants
Severe primary immunodeficiency
Advanced or untreated HIV infection
Active treatment with high-dose corticosteroids, alkylating agents, antimetabolites, tumor-necrosis (TNF) blockers, and other biologic agents that are immunosuppressive or immunomodulatory
Chronic medical conditions such as asplenia and chronic renal disease may be associated with varying degrees of immune deficit
Administration of a third dose of an mRNA vaccine for immunocompromised individuals should take place at least 28 days after the initial two-dose primary series COVID-19 vaccine.
If a moderately to severely immunocompromised individual who received a primary dose of the Janssen vaccine receives a booster dose of Moderna, the 50mcg dose should be used.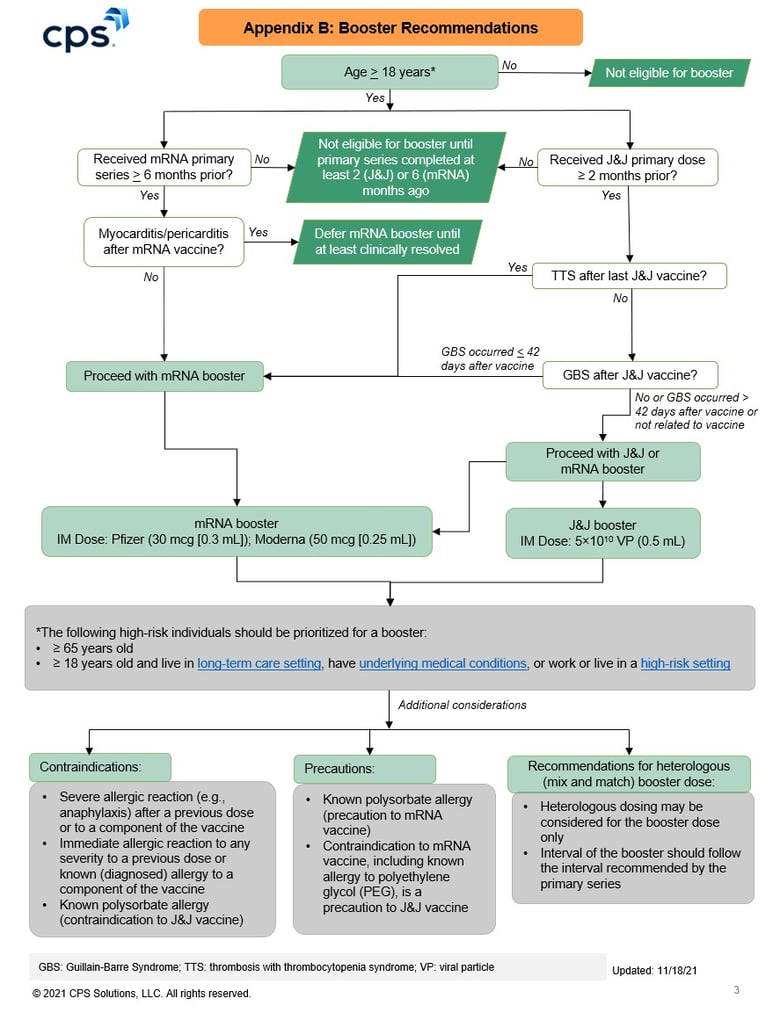 For more information: contactus@cpspharm.com.
1 https://thehill.com/policy/healthcare/577951-cdc-director-signs-off-on-boosters-of-johnson-johnson-moderna-covid. Accessed 10.21.21.
2 https://news.yahoo.com/fda-official-booster-announcements-coming-154214414.html?fr=sycsrp_catchall. Accessed 10.20.21.
3 https://www.cdc.gov/coronavirus/2019-ncov/vaccines/booster-shot.html. Accessed 10.20.21.
4 https://news.yahoo.com/u-start-giving-covid-19-110406287.html?fr=sycsrp_catchall. Accessed 11.03.21
5 US FDA Press Release. Coronavirus (COVID-19) Update: FDA Authorizes Additional Vaccine Dose for Certain Immunocompromised Individuals. August 12, 2021.